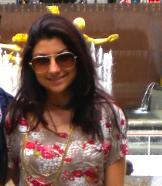 Graduate Student
MA Cohort 2013
Specialization
:
International Business, Corporate Social Responsibility
Social Entrepreneurship, Public-Private Partnerships
Bio
:
Pamela Abi Najem grew up in Santa Cruz, CA, and in 2012 earned B.A. degrees in both Global & International Studies and in Middle East Studies from the University of California, Santa Barbara.
The culmination of her undergraduate experiences in the classroom, the work place and her time spent studying abroad brought Pamela to pursue higher education in the MAGIS program at UCSB. Like many Global Studies undergraduates, she took her education on the road in the summer of 2009 and enrolled in an intensive Arabic program at the Lebanese American University in Beirut, Lebanon. She found herself immersed in an environment with a thriving youth-oriented nightlife culture juxtaposed with religious conservatism, gender inequities, and extremes of wealth and poverty. It was these socio-political and economic complexities in Lebanon that inspired her graduate work, and are foundational to what Global Studies seeks to accomplish across disciplines.
After her graduation at UCSB, Pamela served as the Leasing Coordinator for St. George & Associates, a major Santa Barbara property and construction company.  In this role she acquired broad experience in real estate, property management and construction.  Her focus ranged from business and legal matters to environmental issues and sustainable development strategies.  
Within MAGIS Pamela's research will focus ontrends of new business developments, such as social entrepreneurship and corporate social responsibility (CSR). Although these emerging business trends are driven by profit margins, the language of sustainability, triple bottom lines, impact investing, shared corporate values she wishes to explore how this emerging business philosophy is perchance a step in the right direction in order to start popularizing concerns along the human development index.  
Courses
:
MES 45 - INTRO MID EAST ST; FALL 2013
GLBL 120 - IDEOL/WRLD ORD; WINTER 2014
GLBL 2 - GLOBL SOC/ECON/POL; SPRING 2014