GLOBAL STUDIES COLLOQUIUM SERIES
The Department of Global Studies' Colloquium Series is a lecture and lunch series, which has been made possible by the generosity of the Orfalea Endowment for the Master's Program in Global Studies.  The Colloquium Series strives to open and explore a wide range of interdisciplinary debates and their interaction and engagement with the global, hosting new guest speakers each quarter from UCSB and beyond. Professor Jan Nederveen Pieterse is currently the Director of the Colloquium Series. For more information, please contact our Orfalea Colloquium Fellow Brett Aho at: brettaho@ucsb.edu
When?  Various Wednesdays, 12:30-2pm
Where?  Zoom link https://ucsb.zoom.us/j/84246564996  (talks will be recorded and posted on our YouTube channel)
Who?  The Global Studies Colloquium Series is open to everyone interested in attending the talks.
            
SPRING QUARTER 2021 COLLOQUIUM SCHEDULE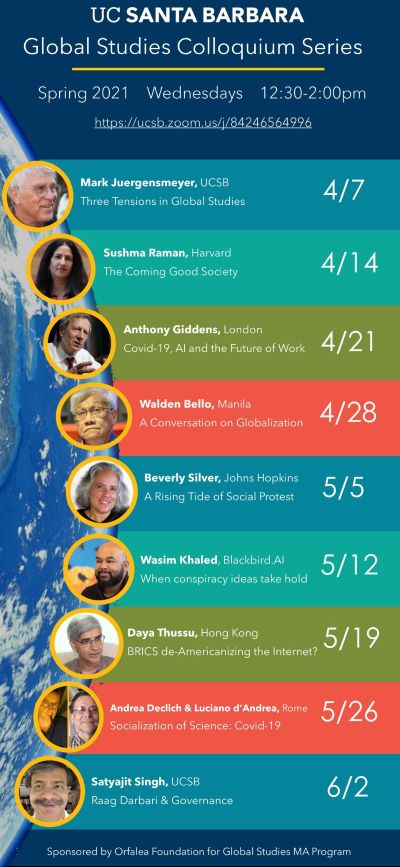 4/7         "Three tensions in global studies"
Mark Juergensmeyer, Distinguished Professor of Sociology and Global Studies, and founding director of the Global Studies Department and the Orfalea Center for Global Studies
4/14       "The coming good society: New realities demand new rights"
Sushma Raman, Executive Director of the Carr Center for Human Rights Policy at Harvard's Kennedy School of Government
4/21       "Covid 19, AI and the Future of Work"
Anthony Giddens, Member of the House of Lords in the UK Parliament, former Director (President) of the London School of Economics,  Life Fellow of King's College Cambridge, co-founder of Polity Press
4/28       "A conversation on global political economy, Asia, China, the US, the far right"
Walden Bello, Adjunct Professor of Sociology at the State University of New York Binghamton and retired professor of the University of the Philippines; former member of the House of Representatives of the Republic of the Philippines; co-founder and senior analyst at Focus on the Global South, Chulalongkorn University, Bangkok
5/5         "A new rising tide of global social protest? The early 21st century in world-historical perspective"
Beverly J. Silver, Professor of Sociology and the Director of the Arrighi Center for Global Studies at Johns Hopkins University
5/12       "When conspiracy ideas take hold"
Wasim Khaled, CEO and co-Founder of Blackbird.AI. 
5/19       "BRICS de-Americanizing the Internet?"
Daya Thussu, Professor of International Communication at the Hong Kong Baptist University; Founder and Managing Editor of the Sage journal Global Media and Communication
5/26       "Socialization of science: the Covid 19 pandemic"
Luciano d'Andrea, senior researcher at Knowledge and Innovation (K&I), an independent social research center based in Rome.
Andrea Declich, Researcher at Knowledge and Innovation (K&I)
6/2         "Ethnography of administration: Fiction as practice"
Satyajit Singh, Professor in the Department of Political Science and the Department of Global Studies
WINTER QUARTER 2021 COLLOQUIUM SCHEDULE
January 13, 2021
Dr. Nick Jepson, University of Manchester
In China's wake: How the commodity boom transformed development strategies in the global South
January 20, 2021
Dr. Adalberto Cardoso / Dr. Thiago Peres, Universidade Estadual do Rio de Janeiro
Covid-19 response patterns in Brazil and South America
January 27, 2021
Dr. Tommaso Durante, University of Melbourne
The global and the visual: Images shape people's common sense of the global
February 3, 2021
Dr. Mark Swilling, University of Stellenbosch
Africa and Covid-19: Ways forward
February 10, 2021
Dr. Inderpal Grewal, Yale University
Communal violence and visuality in India: Partition, 1984 and Modi's India
February 17, 2021
Dr. Oumar Ba, Morehouse College
States of Justice: The politics of the International Court
February 24, 2021
Dr. John M. Hobson, University of Sheffield
Multicultural origins of the global economy
March 3, 2021
Dr. Jernej Habjan, Ljubljana
World literature imagined worldwide
March 10, 2021
Dr. Ricado Jacobs, UCSB
Rethinking the agrarian question in the 21st century
Visit the Colloquium Archive for the full listing of previous speakers: https://www.global.ucsb.edu/news/colloquium-archive
Visit our YouTube Channel to listen to the recorded talks: https://www.youtube.com/channel/UCodfvHBTzMCGicdNh3HiwxA