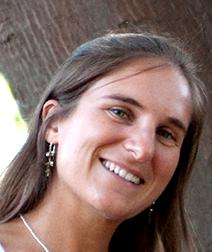 Specialization
:
political economy, sustainable development, and the environment
Bio
:
Nicole earned a B.A. in anthropology and religious studies from Pitzer College (Claremont, CA) in 2002. She studied abroad for two semesters, in Israel and in Nepal. After college, Nicole primarily managed environmental education and species conservation programs that were partnerships between Coal Oil Point Reserve (part of the University of California Natural Reserve System), Santa Barbara Audubon Society, and Shorelines & Watersheds. She also conducted an internship in the Republic of Georgia with International Orthodox Christian Charities.
Nicole received her master's degree in Global & International Studies in September 2010. She conducted her master's internships with Guardians of the Jewel, a grassroots NGO working on community-based conservation issues in rural Belize, and the National Audubon Society's Public Policy Office in Washington, D.C. Her experiences in Belize prompted her to pursue graduate studies in public health. Nicole obtained her M.P.H. from the University of Minnesota School of Public Health in May 2013. She conducted her field experience at the Health Commons at Cedar-Riverside (Minneapolis, MN), a community health project that primarily serves East African Immigrants. She also studied abroad at the Tata Institute for Social Sciences in Mumbai.
Publications
:
Cerra, N.L. (2013).  Culturally Appropriate Care for Somali Immigrants: Program Evaluation Data from the Health Commons at Darul Quba, Minneapolis, MN (Master's thesis). University of Minnesota School of Public Health, Minneapolis, MN.
Cerra, N.L. (2010). Community-Based Natural Resource Management: the Case of Guardians of the Jewel in La Democracia, Belize (Master's thesis). University of California, Santa Barbara, CA.
Cerra, N.L. (2002).  Alternative Medicine:  Fieldwork with a Practitioner in Claremont, CA. (Bachelor's thesis). Pitzer College, Claremont, CA.