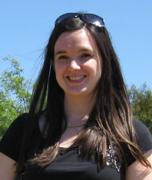 Graduate Student
MA Cohort 2013
Specialization
:
Global Governance and Human Rights
Political Economy and the Environment
Bio
:
Megan received her undergraduate degree at Cornell University, where she studied ecology and environmental ethics. After a brief hiatus in New York, she ended up in the nonprofit world of Santa Barbara, where she has worked for several years. Most recently, she was the International Task Force Coordinator for the Gandhi-King Seasons for Peace and Nonviolence, a grassroots initiative promoting nonviolence education and interreligious dialogue. Through this work, she was also able to attend the Parliament of the World's Religions in Melbourne in 2009, and assisted in organizing an interfaith conference in Italy in 2012.
Her objective for graduate school is to understand more about how the political, economic, and cultural spheres intersect globally and to find opportunities to bring these systems more in service of human rights and sustainability of life on the planet.
Some of her specific interests include the evolution and spread of consumerism ideology, ethical and legal implications of military interventions for humanitarian purposes, resource control and debt as forms of imperialism, and the development of local or regional common resource trusts.
Courses
:
TEACHING ASSISTANT COURSES
GLOBL 1 - Global HIS/CUL/DEOL; FALL 2013
GLOBL 1 - Global HIS/CUL/DEOL; SPRING 2014