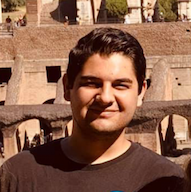 Graduate Student
MA Cohort 2020
Specialization
:
Migration and Refugee Studies, Housing/Land/Property (HLP) rights, Post-Conflict Reconstruction/Reconciliation, Human Rights/Global Governance
Education
:
California State University, Sacramento - Bachelor of Arts in Government with a concentration in International Relations, minor in Middle East and Islamic Studies
San Joaquin Delta College - Associate of Arts in Interdisciplinary studies: Arts and Humanities; Associate of Arts in Interdisciplinary studies: Social and Behavioral Sciences
Bio
:
Having visited Syria prior to the ongoing conflict and being a child of Syrian immigrants, Majed has a passion for issues relating to migration and has spent most of his academic career focusing on Syria from historical, political, and economic perspectives.
Majed spent time directly out of high shcool working in retail banking for five years which inspired him to return to school.  He later worked for the California Energy Commission as an editor focusing on climate policy and innovations in renewable energy.  He previously attended San Joaquin Delta College in his hometown of Stockton and transferred to Sacramento State University where he focused on MENA politics and political economy.  He began at UCSB in Fall of 2020 and has since taken part in projects and research through the Orfalea Center.
Majed began his fieldwork in Jordan in the summer of 2021 and has been conducting interviews with Syrian refugees, interning at the Amman Center for Human Rights Studies, working on projects for a social reserach firm, and taking part in immersive language courses. 
Research
:
Majed's research focuses on housing, land, and property (HLP) rights in post conflict settings and aims to address the role HLP rights play in transitional justice, reconciliation, and return. His work concentrates on Syria and the resulting refugee crisis, but has expanded to include other regions and cases such as Guatemala, the former Yugoslavia, and Northern Uganda.
Majed hopes his work will emphasize the importance of HLP rghts in post conflict settings and play a role in the broader conversation surrounding property restitution in Syria. He is currently working on his thesis and conducting interviews with Syrian refugee communities in Jordan.
Courses
:
Teaching Assistant (W'21): GLOBL 120 - Global Ideologies and World Order
Teaching Assistant (S'21):  GLOBL 120 - Global Ideologies and World Order