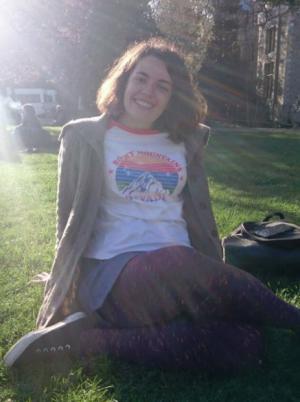 Graduate Student
MA Cohort 2017
Specialization
:
Global Culture, Global Ideology, Global Governance, Civil Society, Middle East, Alternative Models of Political Organization, Affect Theory
Bio
:
Nazli was born in Istanbul in 1993. In 2016, she acquired her Bachelor of Arts degree in Political Science and International Relations from Bogazici University with high honors. She spent a semester abroad at Sciences Po Paris. During her undergraduate years, she worked as a teaching assistant to Political Theory courses and acquainted herself with the experience of teaching through the weekly discussion sessions she held. Owing to the elective courses she took, Nazli familiarized herself with the discipline of Anthropology and decided to pursue an academic career in the field of Political Anthropology.
In July 2016, Nazli won a Fulbright scholarship to study in the US. During the gap year she took before starting the Global Studies MA program at UCSB, Nazli worked for Global Relations Forum; a non-governmental, non-partisan think-tank devoted to bring about policy changes in Turkey on a wide array of topics, from economics to foreign policy. Additionally, Nazli is an editorial board member at PS Europe; an EU-funded student initiative working for the improvement of fundamental rights and liberties in Turkey.
During her undergraduate years, Nazli did research on urban monuments as the signifiers of collective memory and on informal waste collectors in Istanbul as members of the precariat. Currently, she attempts to bring her two biggest passions, Lindy Hop and affect theory, together with a study on the perspectives of the members of a dance community on the spatial and political transformation that is taking place in Istanbul. During her masters, she intends to undertake research on alternative models of political mobilization by looking at organizations which claim themselves to be solidaristic and to be deprived of power-based relations.
Nazli is a native Turkish speaker and is fluent in English. She also speaks French and is a beginner in Kurdish. She is into lindy hop, cycling, travelling, and permaculture.
Courses
:
Teaching Assistant (F'17): GLOBL 2 - Global Socioeconomic and Political Processes