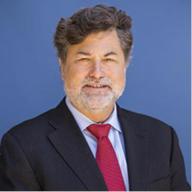 SAGE Sara Miller McCune Dean of Social Sciences
Education
:
B.A. in Social Studies from Harvard University
Ph.D. in Anthropology from Stanford University
Bio
:
Charles Hale is the SAGE Sara Miller McCune Dean of Social Sciences as well as a professor in the Department of Anthropology and the Department of Global Studies. He is a leading social science scholar whose research bridges multiple disciplines, with a focus on race and ethnicity, racism, social movements and identity politics among Black and indigenous peoples in Latin America and the Caribbean. He is highly regarded for his innovations in collaborative approaches, which characterize not only his research and teaching, but his administrative leadership as well. Hale, who previously taught at the University of Texas, Austin, is the recipient of a Fulbright Fellowship for research and teaching in Oaxaca, Mexico. He earned his B.A. in Social Studies from Harvard University, and his Ph.D. in Anthropology from Stanford University.
Projects
:
Grants and Fellowships (Extra-mural only)
2015-16 "When Rights Ring Hollow: Racism and Anti-Racist Horizons in the Americas." A seven-country comparative study, funded by the Wenner-Gren Foundation, and the Inter-American Foundation (approx. $200,000). 
2015-16 "Chile's Forest Industry, FSC Certification and Mapuche Communities."
Study funded by the Forest Stewardship Council ($100,000). Co-principal investigator, with Rosamel Millaman (U. Católica of Temuco, Chile).
2008-09 Fulbright-Garcia Robles Fellowship (affiliation with CIESAS-Pacífico Sur, Oaxaca, Mexico), "Neoliberal transformations, Resource rights, and Identity politics: Central America and southern Mexico Compared."
Publications
:
Single Authored Monographs
2006 "…más que un indio (more than an Indian)": Racial Ambivalence and Neoliberal Multiculturalism in Guatemala. Santa Fe: School of
American Research Press. (Published in Spanish, Guatemala, 2008).
1994 Resistance and Contradiction: Miskitu Indians and the Nicaraguan State, 1894-1987. Stanford: Stanford University Press.
Edited Volumes
2013 Otros Saberes: Collaborative Research with Black and Indigenous Peoples in Latin America. School of Advanced Research Press. Charles R. Hale and Lynn Stephen (eds.)
2008 Engaging Contradictions: Theory, Politics and Methods of Activist Scholarship. Berkeley: UCIA-University of California Press.
2004 Memorias de Mestizaje: Cultura y Política en Centroamérica, 1920-2000. Guatemala: Cholsamaj. (with Jeffrey Gould and Dario Euraque).
1999 Racismo en Guatemala? Abriendo Debate sobre un Tema Tabú. Guatemala: AVANCSO. (Co-edited with C. Arenas and G. Palma).
Peer-reviewed articles
2014 Entre lo decolonial y la formación racial: luchas afro-indígenas por el territorio y por (¿o en contra de?) un nuevo lenguaje contencioso (Between decoloniality and racial formation: Afro-indigenous struggles for territory and for (or against?) a new language of contention). Cuadernos de Antropología Social. 40: 9-37.
2013 Territoriality, Participatory Mapping, and Natural Resources Policy: The Latin American Experience. Cuadernos De Geografía--Revista Colombiana De Geografía. 22(2): 193-209 (co-authors: Bjørn Sletto, Joe Bryan, Marla Torrado and Deborah Barry).
2013 Building Austin, building justice: Immigrant construction workers, precarious labor regimes and social citizenship. Geoforum 45:145-55 (co-authors: Rebecca Torres, Rich Heyman, Solange Munoz, Lauren Apgar, Emily Timm, Cristina Tzintzun, Charles R. Hale, John Mckiernan-Gonzalez, Shannon Speed, Eric Tang).