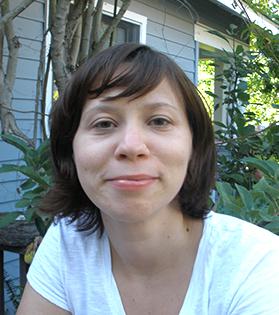 Graduate Student
MA Cohort 2013
Specialization
:
Global governance and Human Rights
Sustainability and International Development
Bio
:
Ayla Peachy is a "third culture kid", who was born in Turkey and grew up in Riyadh, Saudi Arabia. She studied French and Arabic, met people from all over the world and was exposed to many different cultures and perspectives. This upbringing spurred her desire to find common ground between Eastern and Western ideologies and participate in the cross-cultural dialogue necessary to establishing greater awareness and understanding of the two. During those years, she witnessed political instability starting with the Iraqi invasion of Kuwait and the first Gulf War and its impact on the lives of some of her friends and their families. It opened her awareness to the broader implications of foreign intervention and the role it plays in shaping the politics of a region. Those early experiences had a deep and lasting impact on her and fostered her interest in global concerns such as, the underlying causes of war and turmoil, violence against women and their rights to self-empowerment. She would like to participate in finding solutions to prevent war and mitigate violence as well as spread awareness on these issues.
Her appreciation for the biodiversity of life led her to obtain a B.S. in Biological Sciences from the University of Georgia. As an undergraduate, she participated in anti-war rallies in Washington D.C. and Atlanta, GA and spent a summer studying abroad in England at the University of Roehampton. As a scientist, she worked several years for an international animal health company, in the area of vaccine development. During this time, she realized her true passion lay in the social sciences and that furthering her understanding of global processes would be an ideal way for her to incorporate her background and channel her interests.
Though she is naturally drawn to the Middle East, she is also interested in South and Central America for their rich culture, biodiversity, and their role in the global market. Humanitarian aid, debt relief, fair trade and resource conservation are included in her scope of interests. She would like to help communities and individuals become more self-reliant through sustainable land practices, since resources and conflict are closely tied together. She hopes to add Turkish and Spanish to her list of spoken languages. She enjoys nature, learning to play the doumbek, and listening to world music.
Courses
:
TEACHING ASSISTANT COURSES
GLBL 110 - GLBL CULTURE/ETHICS; FALL 2013
GLBL 110 - GLBL CULTURE/ETHICS; WINTER 2014
GLBL 2 - GLOBL SOC/ECON/POL; SPRING 2014