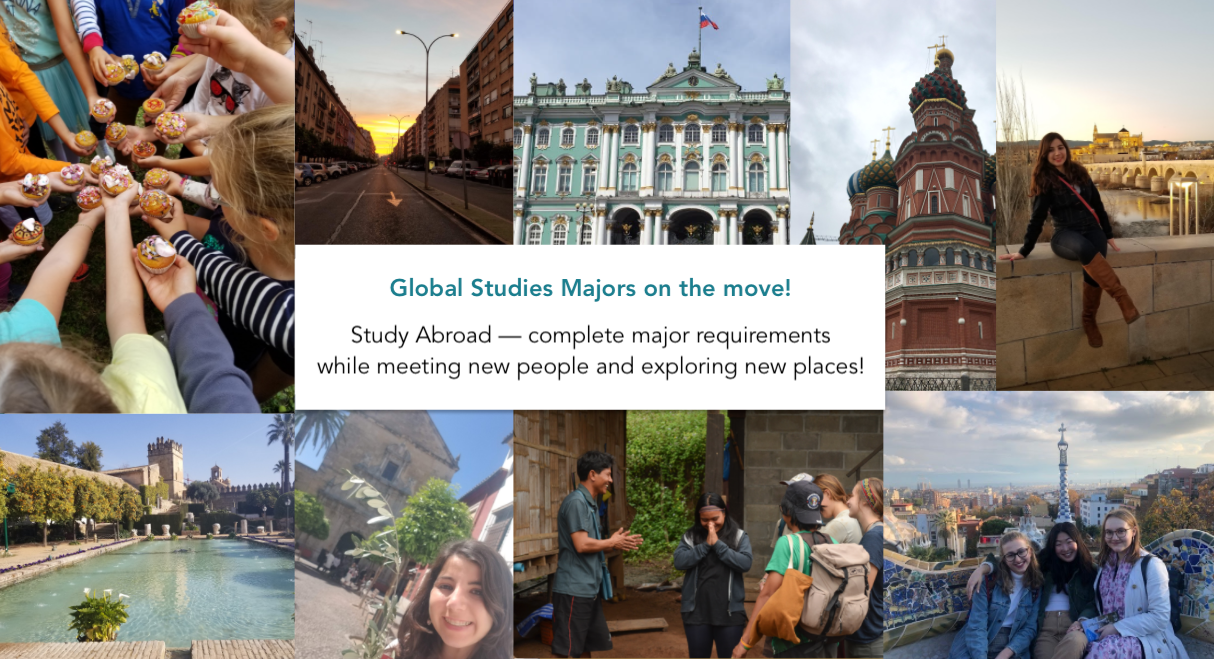 While not required, Global Studies students are strongly encouraged to participate in the University of California's Education Abroad Program (EAP). We are one of the majors that sends the most students on study abroad at UCSB and in the UC system as a whole!
Click here for a recording of the Fall 2021 UCSB EAP information session for Global Studies majors held in mid-October 2021.
Click here to meet one of our majors who studied abroad in Barcelona! (And keep exploring the UCSB EAP YouTube channel for more study abroad tips and inspiration!) 
What can study abroad through UCEAP bring to your college experience?
EAP allows UC students to live and study in one of 40+ countries located on six different continents while continuing to make normal progress towards their degree.
EAP offers a variety of short-term and long-term study experiences in English or in a foreign language, including semester, full year, single quarter, and summer session options 
It is a natural fit for Global Studies majors and one we hope all of our students will take advantage of - you can take what you're learning in the classroom and apply it in real-world contexts.
Global majors can work on the foreign language requirement abroad!
Programs offer first year, second year or more advanced level courses taught in the foreign language, depending on the program in question (consult the Academics tab of each UCEAP program page in which you're interested) and what level of language proficiency you will have reached by the time you are abroad
EAP courses can also apply to the upper division area III requirements for geographic regions, and in some cases, area IIB options!
ALL UCEAP credits transfer into your UCSB academic degree coursework.
They can then be applied towards Global Studies major requirements provided they meet this criteria, or you can plan to treat them as general upper division elective units
What else can I do while studying abroad with UCEAP?
Increasingly, there are several program options that involve internships (many of which you involve getting academic units towards graduation) and community service learning opportunities, so you can gain career experience while also gaining valuable cultural insight - pretty much the best thing a Global Studies major can do for themselves!
But study abroad is really expensive... right?
Not necessarily! The regular tuition and fees you pay for a quarter at UCSB are applied towards your UCEAP program
Depending on the program you choose, it may be located in a country and city where the cost of living is much lower than in Isla Vista/Santa Barbara, which could bring your everyday living expenses down quite a bit
Many of the same financial aid package elements you receive at UCSB can be applicable towards your UCEAP tuition and fees
There are scholarships available to help cover program costs specific to UCEAP programs
I don't have time to study abroad...do I?
You might have more time than you think, even if you're a junior transfer or a double major
The classic time many Global Studies students plan to be abroad is a semester, quarter, or entire year of their junior year, or fall semester of their senior year (particularly for junior transfers)
However, there are lots of shorter-term programs (summer sessions, single quarter programs)
Plus, keep in mind - you can finish a big chunk of your Global Studies major requirements, depending on the courses you take, while you're abroad
Can you graduate from abroad? Yes, potentially - with very careful planning. Talk to an advisor or peer advisor in our department if you're considering this plan! Here's a UCSB EAP page with some helpful logistics to consider if you are already abroad and planning to graduate "from abroad".
Is it safe? What about COVID-19 or other difficult situations abroad?
Since students typically plan and submit their program application 8-9 months in advance of when they would be departing, you submit an application in the academic year before the year in which you'll be studying abroad.
So, there's still time for things to change between applying and getting on that big, exciting plane ride!
Also, keep in mind - it does not cost you anything to apply! If UCEAP deems it unsafe for students to be in a particular country (not only for COVID-19 reasons, but for other reasons too - protests, civil unrest, natural disasters, etc.), it will suspend or postpone the program, and in many cases, you will also be offered opportunities to transfer your application to another program.
So, it's better to apply and have the option to study abroad - don't miss out on the chance!
I'm ready to get started! What's the process?
Visit our Application for EAP Page for full details, and view the recording of the Fall 2020 UCSB EAP Information Session for Global Studies majors for some big-picture planning tips from UCSB's EAP office.
What if I want to study abroad but not through UCEAP?
It's possible. Here are a few things to consider (and then we recommend that you also take a look at the Office of the Registrar's page on the processes you'd follow if you decide on this option - Non-UC Study Abroad, plus the Office of Admission's Transfer Credit Policies for Non-UCEAP Abroad Programs document):
Pros:

Different program options (different cities, different countries, etc., that UCEAP doesn't currently have a partner relationship with)
Sometimes the costs might be cheaper, especially if you pay full-price, nonresident tuition at UCSB (but look very carefully at what is included!)
Could be a backup option if COVID-19/other unrest-related cancellations are affecting your chosen program

Cons:

The BIG one: there's no guarantee that your credits and classes can transfer, and the UC system as a whole does not pre-approve credits for transfer (more on this here). This means that even if your non-UCEAP program asks for an advisor as part of the application to verify that we will accept the credits, we have to say that UCSB cannot pre-approve credits for transfer.

However, in Global Studies, we can provisionally advise you in how the course content would likely fit into our major requirements using this criteria sheet that we'd use for regular UCEAP (and other UCSB) courses you'd want to use by petition. However, we cannot guarantee that UCSB will give you actual credit for the classes (or if they do, that they'll count for upper division course units, etc.)
You can only send your transcript once you return and see what credits, if any, the Office of Admissions grants you (and whether they'd be counted as upper division courses or lower division courses, which would affect whether you can use them towards upper division major requirements). If the program has a US university accreditation (and the transcript is issued through a US college/university), that's a good sign!

The other big con: you'd be going through a private program, so your UCSB financial aid package typically won't cover anything, and you would need to search for your own scholarships.
Basically, if you choose this option for study abroad, be prepared to have to do a lot more independent research on everything that is involved (a nice perk of UCEAP is the high degree of guidance provided through the process) and loop us in early in the process so we can look at course options with you and help you interpret what your chances are that the credits will be accepted at UCSB!