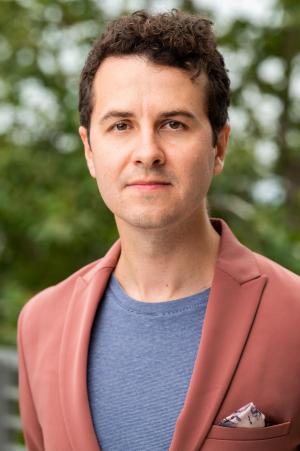 Specialization
:
Global migration and forced displacement
Education
:
Ph.D. History. Stanford University, 2018.
M.A. History. Stanford University, 2013.
M.Sc. Islamic and Middle Eastern Studies. University of Edinburgh, 2011.
M.A. Hons. Arabic and International Relations. University of St Andrews, 2010.
Bio
:
Vladimir Hamed-Troyansky is an Assistant Professor of Global Studies at the University of California, Santa Barbara. He specializes in global migration and forced displacement and the history of the Ottoman and Russian empires and their successor states. His research interrogates the relationship between refugee mobility, political economy, and ethnic cleansing, which were critical to the making of the modern Middle East and Eastern Europe.
In 2022-23, Dr. Hamed-Troyansky serves as Vice-Director of the Center for Middle East Studies.
Dr. Hamed-Troyansky's first book, Empire of Refugees: North Caucasian Muslims and the Late Ottoman State (Stanford University Press, forthcoming 2024), examines the resettlement of Muslim refugees from Russia in the Ottoman Empire prior to World War I. This book revisits late Ottoman history through the lens of migration and explores the origins of refugee resettlement in the modern Middle East. Between 1860 and 1914, about a million Muslims from the Caucasus, including Circassians, Abkhazians, Chechens, Ossetians, Dagestanis, and others, arrived in the Ottoman Empire. They settled throughout the empire: from modern-day Bulgaria, Romania, and Greece in the west, through Turkey, to Syria, Iraq, and Jordan in the east. Empire of Refugees demonstrates that state support for resettlement—in the form of financial aid, infrastructural development, and legislation—was critical to the viability of hundreds of refugee villages and regional stability.
Dr. Hamed-Troyansky's new research project examines histories of Muslim displacement in the Middle East, Central Asia, and South Asia since the mid-nineteenth century.
Dr. Hamed-Troyansky conducted archival research in over twenty public and private archives in Turkey, Jordan, Bulgaria, Georgia, Armenia, Azerbaijan, Kazakhstan, Kyrgyzstan, the United Kingdom, and Russia, including the autonomous republics of Dagestan, North Ossetia-Alania, and Kabardino-Balkaria. He works with sources in Arabic, Ottoman and modern Turkish, Russian, and Bulgarian. His research has been supported by, among others, the National Endowment for the Humanities, the American Council of Learned Societies, and the Social Science Research Council. He held residential research fellowships at the American research centers in Amman and Sofia.
Dr. Hamed-Troyansky welcomes graduate projects in global refugee history and the modern history of the Middle East and the Caucasus.
Dr. Hamed-Troyansky received his Ph.D. from Stanford University and was a postdoctoral fellow at Columbia University. Dr. Hamed-Troyansky grew up in the Baltics, completed his undergraduate and Master's degrees in Scotland, and briefly studied in Syria and Egypt.
Publications
:
Book (forthcoming)
Empire of Refugees: North Caucasian Muslims and the Late Ottoman State
Peer-Reviewed Articles
"Ottoman and Egyptian Quarantines and European Debates on Plague in the 1830s–1840s," Past & Present 253 (2021): 235–70 [PDF].
"Becoming Armenian: Religious Conversions in the Late Imperial South Caucasus," Comparative Studies in Society and History 63, no. 1 (2021): 242–72. [PDF]
Honorable Mention | 2022 Best Article Award in Kurdish Studies, UCF Kurdish Political Studies Program.
"Circassian Refugees and the Making of Amman, 1878–1914," International Journal of Middle East Studies 49, no. 4 (2017): 605–23. [PDF]
Winner | 2018 Best Article Prize, Syrian Studies Association.
Winner | 2018 Khayrallah Prize in Migration Studies, Moise A. Khayrallah Center for Lebanese Diaspora Studies.
Dissertation
"Imperial Refuge: Resettlement of Muslims from Russia in the Ottoman Empire, 1860–1914." Stanford University, 2018.
Winner | 2018 Dissertation Prize, World History Association.
Winner | 2020 Outstanding Dissertation Prize, Gesellschaft für Turkologie, Osmanistik und Türkeiforschung.
Honorable Mention | 2019 Malcolm H. Kerr Dissertation Award in the Social Sciences, Middle East Studies Association.
Courses
:
GLOBL 1 Global History, Culture, and Ideology
GLOBL 112 Global Refugee Migration
GLOBL 292A Global Migration
GLOBL 292IB Displacement in the Middle East and Russia/Soviet Union