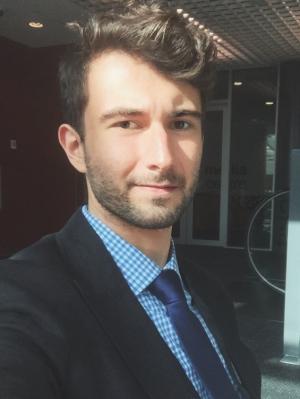 Graduate Student
PhD Cohort 2015
Specialization
:
Primary Specialization: Global History, Culture and Ideology.
Secondary Specialization: Political Communication, and Global Media Production.

Doctoral Emphasis: Information Technology & Society.
Education
:
B.A. (Hons) English Literature and Media Studies. University of Wales, Swansea, United Kingdom. (2012)
M.A. (Merit) International Journalism.
Cardiff University, United Kingdom. (2014)
Bio
:
Tymoteusz Chajdas is a Doctoral Candidate in the Department of Global Studies at the University of California, Santa Barbara. His dissertation "Silk Road Redux: Ideoscapes, Landscapes and Mediascapes of China's Global Ambitions" investigates the strategic and selective revival of traditional Chinese cultural history, which—presented as one to be proud of—creates new forms of indomitable national ambition.
More specifically, Tymoteusz's research project studies the historical narratives of Sino-Western cultural, political and commercial exchange that the Chinese state has reprised in a larger project of worlding China, or the experience of being "in" the modern globalized world. To examine this development, he traces the cultural symbolics of the Silk Road as a myth, a narrative and a cultural imaginary which, operating on the level of textuality, have been employed to describe, legitimate and justify a project currently referred to as the "Belt and Road Initiative" (一带一路).
Tymoteusz is interested in the dynamics that drive global circulation, distribution and mediation of ideas. While he currently studies how the production and use of Silk Road imagery across cultural texts and material objects mediates and communicates about the future of Chinese globality, his doctoral research is a culmination of his previous projects. Having been interested in the cultural histories of ideas, his Master's Thesis investigated the evolution and contemporary status of the American Dream in the wake of the financial crisis of 2007-08 vis-à-vis the economic rise of China's significance in the global economy.
In his research, he draws on a range of methodologies in the humanities and humanistic social sciences to trace practical consequences of popular ideas, which bridge geographies and span centuries, to shed light on how mediated ideas, solidified in a single narrative, can be repurposed to promote, normalize, justify and legitimate observable phenomena, national projects and political actions. He, therefore, is interested in the role of ideology and culture in both political communication and the processes of nation-branding, empire-building and history-making.
Tymoteusz holds a BA degree in English Literature and Media Studies from University of Wales at Swansea as well as an MA in International Journalism from Cardiff University, the longest established journalism school in Europe. He is an Editor-in-Chief of the Global Spheres Journal and the President and Founder of the Eta Omicron Chapter of the Sigma Iota Rho Honors Society in Global and International Studies at UC Santa Barbara. His latest publications include a book chapter entitled "BRI Initiative: A New Model of Development Aid?" in the first comprehensive volume on the BRI, entitled The Belt and Road Initiative: Law, Economics and Politics (Brill, 2018). Prior to joining UC Santa Barbara, Tymoteusz worked at the Nature Publishing Group in Lausanne, Switzerland. He is also a freelance journalist and has consistently been active in contributing to a range of publications. Connect on LinkedIn, or at tchajdas@ucsb.edu.
Publications
:
Latest Academic Publications:
Chajdas, Tymoteusz. 2019. Media Portrayals in Globalized World: Justification of State Control through an Orientalist Lens, In: Chiluwa, Innocent E. (ed.) Deception, fake news and Misinformation Online, Hershey: IGI Global. (Forthcoming, 2019)
Chajdas, Tymoteusz. 2018. BRI Initiative: A New Model of Development Aid?, In: Chaisse, J. and Gorski, J. (eds) The Belt and Road Initiative: Law, Economics and Politics, Boston: Brill.
Working Papers:
Chajdas, Tymoteusz. Disruptive Times Call for Unconventional Measures: News-making in an Era of Post-Truth Politics.
Chajdas, Tymoteusz. Faking Journalism in the 21st Century: Special Advertising Sections as Predatory Capitalist Enterprise?
Courses
:
Instructor of Record (Associate/Lecturer)
Global History, Culture and Ideology (Summer 2018)
Global Media (Spring 2018)
Global History, Culture and Ideology (Summer 2017)
Graduate Student Instructor (TA)
Global Socioeconomic and Political Processes (Winter 2019, w/ Prof. Thandi)
Global History, Culture and Ideology (Fall 2018, w/ Prof. Ghosh)
Introduction to Literary Study (Winter 2018, w/ Prof. Douglass)
Introduction to Sociology (Fall 2017, w/ Prof. Gordon)
Global Media (Spring 2017, w/ Dr. McCarty)
Global History, Culture and Ideology (Winter 2017, w/ Prof. Gunn)
Human Rights (Fall 2016, w/ Prof. Darian-Smith)
Global History, Culture and Ideology (Summer 2016, w/ Dr. Soboslai)
Global Culture and Ethics (Spring 2016, w/ Prof. Clitandre)
Global History, Culture and Ideology (Winter 2016, w/ Dr. McCarty)
Global Socioeconomic and Political Processes (Fall 2015, w/ Prof. Juergensmeyer)