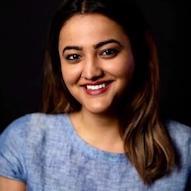 Graduate Student
MA Cohort 2020
Specialization
:
Global Governance and Human Rights, and Civil Society
Education
:
St. Lawrence University - double major in Government and Global Studies, with a minor in Arabic Studies
Bio
:
Sadaf Delawar grew up in Scranton, PA and attended undergrad at St. Lawrence University and graduated in 2019, where she was a double major in government and global studies with a minor in Arabic Studies. During her time at St. Lawrence she studied abroad in London and was introduced to the plight of refugees and immigrants in Europe. As a result, her undergraduate research was focused upon media discourse surrounding immigrants in Massachusetts. She completed her first internships in Boston at Rosie's Place as a public policy intern, and a second internship in the same city the following summer at the Massachusetts Immigrant and Refugee Advocacy Coalition as a communications intern. It was during these experiences that she found a passion and an interest in refugee advocacy and public affairs, the intersections of which led her to her fellowship at CORO in Pittsburgh. Being a part of the CORO Center for Civic Leadership provided Sadaf with ample opportunities to be involved with local non-profits and public policy. CORO provided opportunities to work at 1Hood Media Academy, and the Associated Artists of Pittsburgh as well as access to the Mayor's office. These experiences led Sadaf to the MA in Global Studies at UCSB, where her research concerns the educational attainment of refugees and the barriers that come with refugeehood and encampment. Some of her most memorable courses during her time at UCSB has been her Research Methods course during her first quarter, the Global Governance and Human Rights course during her second quarter, as well as the Directed Reading and Research courses she took this past quarter. These classes have been foundational to her research goals and will be essential to the completion of her Thesis. Her research will be taking her to Istanbul, Turkey and Athens, Greece, examining the educational opportunities available to Afghan refugees and the obstacles in their way.