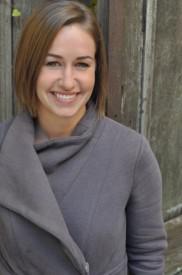 Graduate Student
MA Cohort 2016
Specialization
:
Human Rights and Global Governance, Education, Refugee Youth and Communities, Global Culture, SE Asia
Education
:
Nicole graduated cum laude with a B.S. in Communication from Northwestern University in 2006 and a major in Theatre.
Bio
:
In 2006-2007, under a Luce Scholars Program fellowship, Nicole worked for Gabfai Community Theatre, in Thailand – a human rights a grass roots arts education organization working in partnership with communities.  She facilitated participatory curriculum with women and youth throughout northern Thailand and the Burma border region.
Nicole subsequently worked in communities and in Chicago Public Schools classrooms.  As Director of Education at Writers Theatre she implemented literacy, arts-integration, and civic practice programs to over 10,000 students annually. Her work in non-profit management and in the classroom has focused on addressing violence, confronting racism and bias, working with incarcerated youth, and addressing literacy gaps with an emphasis on community agency and engagement.  In addition to invited presentations for organizations like Ingenuity Inc., Communities in Schools of Chicago, and the CPS Department of Arts Education, she has presented at national conferences such as the International Theatre of the Oppressed Conference and the National Guild for Community Arts Education Conference for which she has also served on the steering committee for pre-conference institutes on teaching arts. In 2015 she published about her arts-integration approach to education in the interdisciplinary education journal PRISM. She is a 2006 Luce Scholar, Fulbright grant recipient, was awarded a 2013 Communities in Schools of Chicago Spirit of Giving Award, and a nominee for a 3Arts award in Teaching Arts.
Nicole is dedicated to challenging systemic oppression. She is concerned with the relationship between education policy and praxis, youth agency, and community-based approaches to social welfare. Her community-engaged research focuses on youth refugees in SE Asia and the US with critical approach to centering refugee stories.
Website: thenicoleripley.com
Courses
:
Teaching Assistant (F'16): GLOBL 1 - Global History, Culture, and Ideology
Teaching Assistant (W'17): GLOBL 2 - Global Socioeconomic and Political Processes
Teaching Assistant (S'17): GLOBL 1 - Global History, Culture, and Ideology