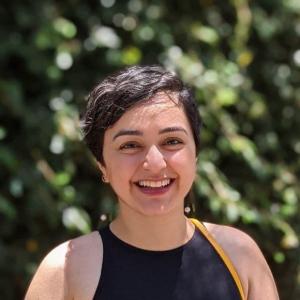 Graduate Student
PhD Cohort 2016
Specialization
:
Transnational Migration, Middle East, Political Sociology, Diasporas
Education
:
Bachelor of Arts in English Literature at University of Tehran, Iran (2009-2013)
Master of Fine Arts in Creative Writing at Chatham University, Pittsburgh, PA (2014-2016)
PhD in Global Studies at University of California, Santa Barbara (2016-2023)
Bio
:
Leila Zonouzi holds a Ph.D. in Global Studies from the University of California, Santa Barbara. Her field of research is the modern Middle East, with a focus on transnational migration, political sociology, and civil society. Her dissertation research is a comparative diasporic study between Iran, Egypt, and Turkey, where she looks at the new wave of academic migration from the Middle East and North Africa region to the Global North in the 21st century. Her methods include field interviews, comparative historical analysis, and statistical analysis of economic and immigration data. Based on sources in Persian, Turkish, and Arabic, her scholarship explores the impacts of local and global sociopolitical and economic conditions on migratory networks. She has won a UC Presidential award to complete her dissertation.
Publications
:
"The Imperial Draw: MENA Labor Migrations in the 21st Century" - Manuscript in Preparation
"Intergenerational Conflicts: Experiences of Discrimination & Racialization in Iranian Diasporic Novels" - Chapter in a Peer-Reviewed Edited Volume - May 2023 - In Routledge Handbook of Persian Literature, edited by Kamran Talattof
"Review of Temporary Marriage in Iran by Claudia Yaghoobi" - Peer-Reviewed Book Review - Mar 2021 - In Journal of Middle Eastern Women's Studies
"The War on Terror Paradigm and Intersecting Contemporary Civil Uprisings" - Sep 2020 - In 21st Century Global Dynamics Electronic Journal
Courses
:
Instructor of Record
• Histories and Literatures of Middle Eastern Migration: Sep 2019 – Dec 2019
• Persian as a Second Language: Sep 2017 – Jun 2018
Teaching Assistant:
• Education Abroad as Global Research: Two-Part Seminar Series on Research Design: Jan 2021 – Jun 2021
• Global History, Culture, and Ideology: Apr 2019 – Jun 2019
• Global Environmental Politics: Jan 2019 – Mar 2019
• Global Socioeconomic & Political Processes: Sep 2018 – Dec 2018
• Global Socioeconomic & Political Processes: Apr 2017 – Jun 2017
• Global Ideologies and World Order: Jan 2017 – Mar 2017
• Ethnographies of Globalization: Sep 2016 – Dec 2016