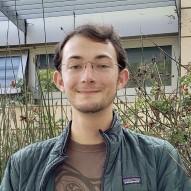 Graduate Student
MA Cohort 2021
Specialization
:
Global Political Economy and Development
Education
:
University of California, Santa Barbara - Bachelor of Arts Degree in Global Studies with Minor in American Indian and Indigenous Studies
Bio
:
Jean-Michel Ricard is a lifelong resident-guest of the Chumash homeland of Santa Barbara.  During his time at UCSB he became involved in the American Indian & Indigenous Student Association, where his extraordinary peers inspired him to dedicate himself to research of benefit to marginalized communitites, as determined and directed by the communities themselves.  His current research interests include Indigenous sovereignty, language revitalization, and intergovernmental coopertaion between Indigenous and national governements.