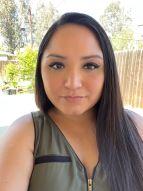 Graduate Student
MA Cohort 2021
Education
:
UC Santa Barbara - Bachelor of Arts in Sociology, 2015
Bio
:
Genesis is originally from Bakersfield in California's central valley and earned her BA in Sociology from UCSB. As an undergrad, she was a part of several student-led organizations that promoted global solidarity in regards to different movements, such as student rights, workers' rights, and environmental justice. She participated in a study abroad program in Brazil during 2014-2015, during which she got to experience the World Cup and observe its immediate impact on society and their economy. After graduating, Genesis worked for the Education Abroad Program at UCSB for several years where she advised students planning to study abroad in (mainly) the Americas and in Spain. Having been introduced to topics of globalization as a student, studying abroad in Latin America (and experiencing such a high-profile global event), and having worked in the international education field all led her to pursue an MA in Global Studies at UCSB.
Research
:
Genesis will focus her studies on topics of human rights, global migrations and refugee rights, with an emphasis on Latin America. Her research will look at the root causes of migration, processes of migration and resettlement, and government responses at federal and local levels.