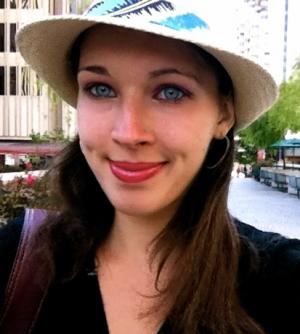 Specialization
:
political economy, sustainable development and the environment
Bio
:
Emilie Olson earned a B.A. with high honours in international relations and a minor in art history at the University of California, Davis. Interested in sociopolitical issues, foreign languages, and travel, Emilie's research focuses on global social justice: namely, the intersection between sustainable development, human rights, and community-based adaptation to climate change. In the MAGIS program at the University of California, Santa Barbara, Emilie seeks further inspiration and support for channeling her research interests into a concrete, socially conscious project complementary to her goal of making a wider positive impact.
Emilie spent summer and fall of 2012 in South Africa doing independent research and an internship with a local social justice NGO called Indigo Development & Change, located in a small farming hamlet known for its rooibos tea and world-famous flower season. Emilie participated in all three of Indigo Development & Change's project areas: capacity building, biodiversity education & conservation, and climate change adaptation. Her internship involved both natural and social science contributions including: biodiversity monitoring and field excursions; designing interactive games and activities for climate change workshops; assisting in workshop facilitation; developing marketing material for the Fairtrade Heiveld Cooperative; directing a short informational film; co-authoring a Baseline report; and programme planning. Before returning the U.S., Emilie explored Turkey, Spain, France, Portugal, and Germany.
Publications
:
TEACHING ASSISTANT COURSES
GLOBL 110 - Global Cult/&Ethics; FALL 2011
GLOBL 110 - Global Cult/&Ethics; WINTER 2012
GLOBL 2 - Global Cult/&Ethics; WINTER 2013
SOC 1 - Intro to Sociology; SPRING 2013