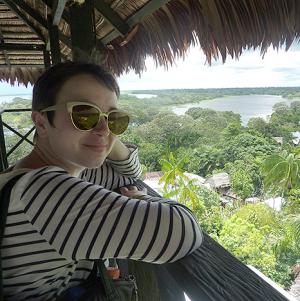 Graduate Student
MA Cohort 2013
Specialization
:
Global Governance and Human Rights
Political Economy
Bio
:
Emelin Gasparrini, a Santa Barbara local, earned her Bachelor of Arts in History with honors from Bryn Mawr College in Pennsylvania, graduating cum laude in 2007.  During her undergraduate years Emelin also studied Spanish and Ancient Greek, and was the recipient of a 2006 Hanna Holborn Gray Research Fellowship to conduct research for her senior thesis on Emiliano Zapata and Revolutionary Mexico. She has spent time in Colombia, Thailand, Ireland, and the United Kingdom.
Since completing her undergraduate degree, Emelin has been very active within the Santa Barbara nonprofit community. As the Operations Coordinator at Worldhealer since it's founding, she has been highly involved in the creation of its global awareness program in Santa Barbara, as well as laying the foundation to launch a program abroad to support underprivileged youth in South America. As the Development Associate at Pacific Pride Foundation she has promoted LGBT and HIV/AIDS programs and advocacy. She also participated in youth and professional nonprofit theatre with both Boxtales Theatre Company and Stage Left Productions.
At MAGIS, Emelin plans to focus on global governance and human rights, and political economy, particularly in Latin America and the developing world, because she strongly believes that the best way to ensure a more sustainable and just world is to address problems like lack of education or economic opportunities at their source before they can feed into exploitative mechanisms like terrorist organizations or human trafficking. In order to successfully identify solutions and build stability in a more interconnected world, we need to be able to place new approaches within a wider context.
Courses
:
GLOBL 1 - Global HIS/CUL/DEOL; FALL 2013
CH ST 1A - INTRO CHICANO/A STD; WINTER 2014
GLOBL 1 - Global HIS/CUL/DEOL; SPRING 2014