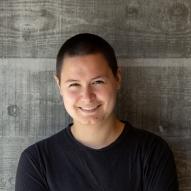 Graduate Student
PhD Cohort 2021
Specialization
:
Global Cultures & Ideology, Violence Studies, Torture, Affect Theory, Gender & Queer Studies, Latin American Studies
Education
:
Barnard College/Columbia University, Bachelor of Arts in Human Rights and Gender & Sexuality Studies (2020)
Bio
:
Em grew up in San Francisco and completed their undergraduate degree at Barnard College. Their undergraduate thesis project explored the gender and sexual politics of the use of torture in the War on Terror, and its justification by Western media sources. Before coming to UCSB, Em was an intern at the Program for Survivors of Torture at Bellevue Hospital in New York City, where they helped record data and stories from clients within the program. They also have experience doing interviews in clinical settings with survivors of Cold War-era dictatorships in Bolivia. Em plans to center their doctoral research around how the use of torture in the modern world contributes to the global movement of information, values, and ideology.