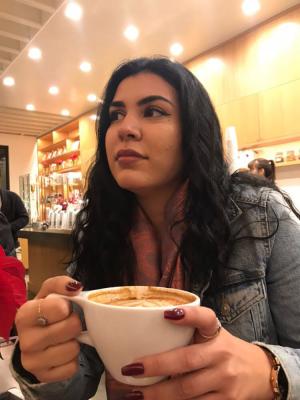 Graduate Student - MA Cohort 2017
Specialization
:
Global Governance, Human Rights, and Civil Society
Education
:
(2016) Bachelor of Arts, International Relations & Middle East and South Asian Studies - University of California, Davis
Bio
:
As someone who identifies as an Arab, Muslim, first-generation, (politically) radical woman of color, Abire has dedicated her time and work to advocate for, represent, and empower marginalized communities, especially young Muslim women of color. I strive to foster a safe space for the communities she identifies with, while building critical solidarity with other communities that share similar struggles and oppression, to expand our networks of social and political consciousness. Organizing against the oppressive Israeli occupation of Palestine has always been a priority for Abire, inspiring much of her activism on personal and political levels at a young age. Her passion and understanding of the need for social justice work and equity drives her to to research and expose the dangerous affects of orientalism and Western imperialism on Arab and Muslim feminism and resistance movements across North Africa, the Middle East and South Asia. She finds such work important now more than ever considering the current political climate in the Middle East, and the continued rising Islamophobia and Anti-Arab sentiments within the Western world.
Research
:
As a graduate scholar-activist at UC Santa Barbara, Abire's research focus is on how recent and emerging transnational alliances and solidarities share resources and tactics due to the similar modes of domination they are subjected to, while also trying to find the role of the scholar-activist within these networks. Abire hopes to  (re)discover and review (past and present) knowledge of the Palestinian struggle under Israeli occupation and the Black struggle living in the United States, while simultaneously adding this knowledge by using the moment of solidarity between Gaza and Ferguson in 2014 to explore 1) if they struggle against similar modes of state-sanctioned violence and oppression and 2) if this shared oppression is what inspired that moment between Gaza and Ferguson and 3) if this could potentially inspire greater solidarity networks in the future. Inspired by these networks of solidarity, she uses radical, de-colonial methodology and feminism to uplift and envision ways in which women of color can lead the movement against (what Bell Hooks holistically identified as) "imperialist, white supremacist, capitalist patriarchy".
Courses
:
Teaching Assistant (F'17): GLOBL 104 - Global Diasporas
Teaching Assistant (W'18): GLOBL 120 - Global Ideologies and World Order
Teaching Assistant (S'18): GLOBL 1 - Global History, Culture, and Ideology
Teaching Assistant (F'18): BLST 1 - Intro to African Americans Studies
Teaching Assistant (W'19): BLST 14 - History of Jazz