UPCOMING EVENT:
"POPULISM IS A DISTRACTION", By Professor Jan Nederveen Pieterse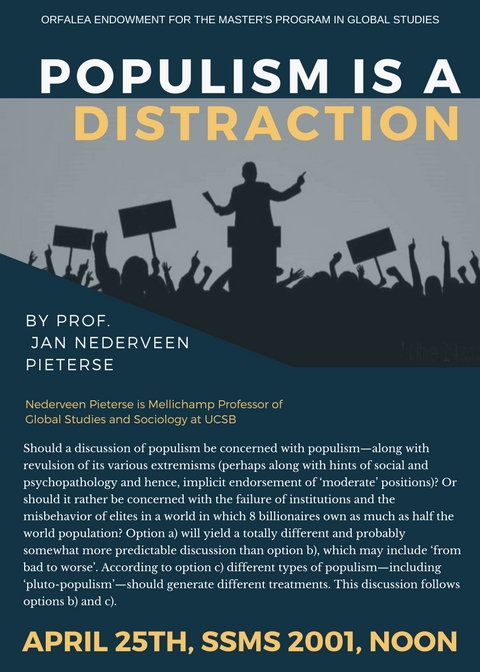 The Global Studies Colloquium Series in conjunction with the Orfalea Endowment for the Master's Program in Global Studies is proud to present a talk by Professor Jan Nederveen Pieterse "Populism is a distraction"
Nederveen Pieterse is a Mellichamp Professor of Global Studies and Sociology at UCSB.
The event will take place next Wednesday, April 25h at 12:00 PM in SSMS 2001. After the talk, the speaker will join the audience for informal lunch and conversation.
PREVIOUS EVENTS:
29 November - "Speculating on World Class" - Professor Hun Kim
15 November - "Is ISIS over?" - Professor Mark Juergensmeyer, UCSB.
1 November - "The Last Secret: The Powers of Conspiration" - Professor Richard Hecht, UCSB, Mr, Brett Land and Ms. Shelby King.
25 October - "Urbanization as Environmental Change: Planning and Disposession in Contemporary China" - Professor Jia-Ching Chen, UCSB
18 October - "Starving for Justice: Hunger Strikes, Spectacular Speech and the Struggle for Dignity" - Professor Ralph Armbruster-Sandoval, UCSB
11 October - "Analytical Problems of Violence Research: Latin America in the Global Context" -  Professor Michel Misse, Universidade Federal do Rio de Janeiro
4 October - "Global Cities: Urban Environments in Los Angeles, Hong Kong and China" - Professor Robert Gottlieb, Occidental College
FUTURE EVENTS:
In a time of increasing non-linear disruptions, ecological erosion and social inequality are the mutually reinforcing dynamics of business as usual. How do social movements construct inspiring visions, reimagine political strategy, and re-organize our structures and practices? Gopal Dayaneni will share how Movement Generation and other formations are working to realign social movement strategy with ecological principles to meet these challenges.
Gopal has fought for social, economic, environmental and racial justice through organizing and campaigning, teaching, writing, speaking and nonviolent direct action since the late 1980's. Among his many roles, Gopal currently serves on the Staff Collective of Movement Generation: Justice and Ecology Project, and teaches in the Urban Sustainability Program of Antioch University. Most importantly, Gopal is the father of Ila Sophia and Kavi Samaka Orion. He lives in Oakland in an intentional, multi-generational community of nine adults, eight children and a bunch of chickens.
Wednesday, January 24th • 12:30 PM • SSMS 2001
Talk is free to attend. Lunch is provided.