UPCOMING EVENT:
COLLOQUIUM SERIES WITH AMBASSADOR JOE WILSON
MAY 16TH, MAY 23RD, MAY 30TH AND JUNE 6TH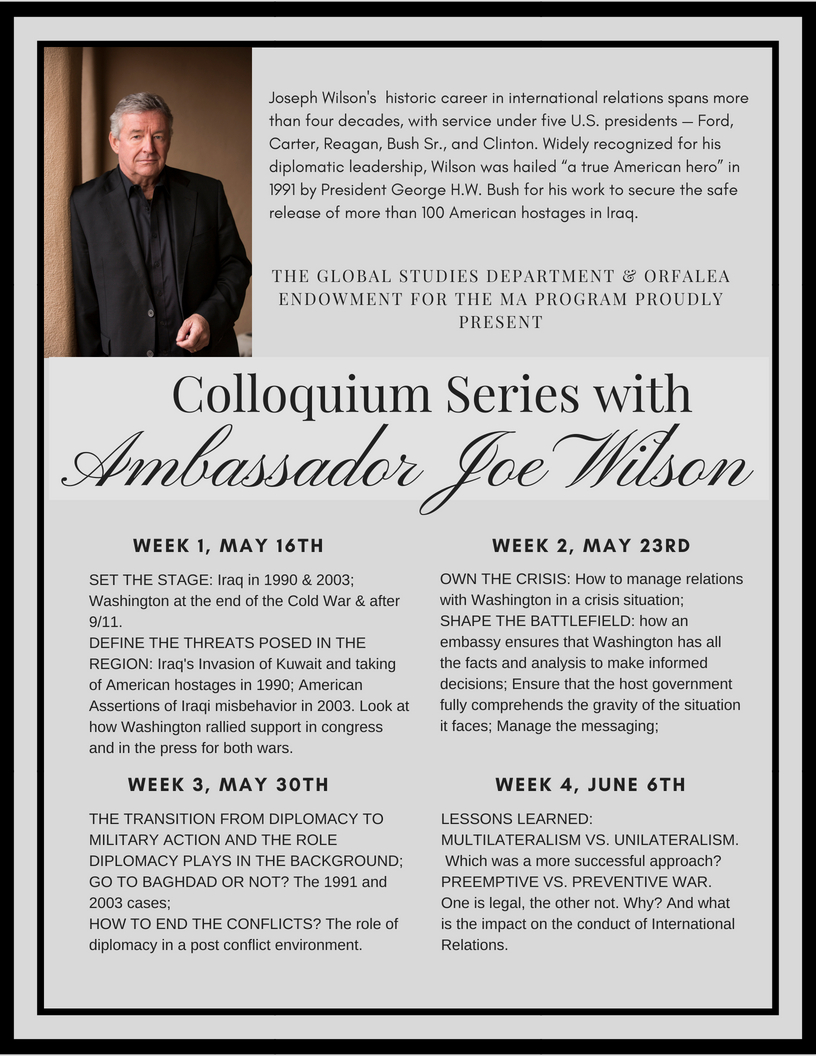 The Global Studies Colloquium Series in conjunction with the Orfalea Endowment for the Master's Program in Global Studies is proud to present our next guest, Ambassador Joe Wilson.  In four meetings, the goal of the series is to better understand the role of diplomacy in conflict management and resolution from the perspective of hands on experience.
Joseph Wilson's historic career in international relations spans more than four decades, with service under five U.S. presidents — Ford, Carter, Reagan, Bush Sr., and Clinton. Widely recognized for his diplomatic leadership, Wilson was hailed "a true American hero" in 1991 by President George H.W. Bush for his work to secure the safe release of more than 100 American hostages in Iraq.
The last American official to confront Saddam Hussein before the start of the Gulf War, Wilson served as the acting U.S. Ambassador in Iraq throughout Operation Desert Shield. He has held numerous senior government positions, including Ambassador to Gabon and to the Democratic Republic of São Tome and Principe. As Special Assistant to the President and Senior Director for African Affairs at the National Security Council, Wilson was responsible for the coordination of U.S. policy to the 48 countries of sub-Saharan Africa. He was also a principal architect of President Clinton's historic trip to Africa in March 1998 and a leading proponent of the Africa Trade Bill.
At the request of the Bush (43) Administration, in 2002 Wilson traveled to the Republic of Niger to investigate reports that Saddam was seeking to purchase uranium yellowcake from that West African nation for Iraq's nuclear weapons program. After his visit, Wilson reported back to Washington that there was no truth to the claim. 18 months later, when it became clear the administration had misled the American people about the yellowcake claim, Wilson became the first to openly challenge the administration on its justification for war. Eight days after Wilson stated his conclusions in a New York Times article titled "What I Didn't Find in Africa," his wife's identity as a covert CIA officer was revealed by senior White House and State Department officials as retaliation. The betrayal of Valerie Plame's identity resulted in the conviction of Vice President Dick Cheney's Chief of Staff on four counts of perjury, lying to federal investigators, and obstruction of justice.
In 2004, Wilson chronicled his diplomatic career and battle with the Bush administration in his national bestselling book The Politics of Truth. In 2010, the Wilsons' story was made into a major motion picture starring Sean Penn and Naomi Watts, entitled Fair Game.
 
The first event will take place Wednesday May 16th, noon, at SSMS 2001
PREVIOUS EVENTS:
29 November - "Speculating on World Class" - Professor Hun Kim
15 November - "Is ISIS over?" - Professor Mark Juergensmeyer, UCSB.
1 November - "The Last Secret: The Powers of Conspiration" - Professor Richard Hecht, UCSB, Mr, Brett Land and Ms. Shelby King.
25 October - "Urbanization as Environmental Change: Planning and Disposession in Contemporary China" - Professor Jia-Ching Chen, UCSB
18 October - "Starving for Justice: Hunger Strikes, Spectacular Speech and the Struggle for Dignity" - Professor Ralph Armbruster-Sandoval, UCSB
11 October - "Analytical Problems of Violence Research: Latin America in the Global Context" -  Professor Michel Misse, Universidade Federal do Rio de Janeiro
4 October - "Global Cities: Urban Environments in Los Angeles, Hong Kong and China" - Professor Robert Gottlieb, Occidental College
In a time of increasing non-linear disruptions, ecological erosion and social inequality are the mutually reinforcing dynamics of business as usual. How do social movements construct inspiring visions, reimagine political strategy, and re-organize our structures and practices? Gopal Dayaneni will share how Movement Generation and other formations are working to realign social movement strategy with ecological principles to meet these challenges.
Gopal has fought for social, economic, environmental and racial justice through organizing and campaigning, teaching, writing, speaking and nonviolent direct action since the late 1980's. Among his many roles, Gopal currently serves on the Staff Collective of Movement Generation: Justice and Ecology Project, and teaches in the Urban Sustainability Program of Antioch University. Most importantly, Gopal is the father of Ila Sophia and Kavi Samaka Orion. He lives in Oakland in an intentional, multi-generational community of nine adults, eight children and a bunch of chickens.
Wednesday, January 24th • 12:30 PM • SSMS 2001
Talk is free to attend. Lunch is provided.